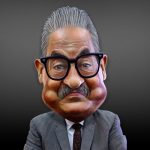 The Legal Writing Boss holds no quarter, gives no mercy, and negotiates to win. The Boss caricature is based on Thurgood Marshall, one of the most powerful lawyers and judges in recent history, and a true Legal Writing Boss.
Follow the Boss on Twitter, Facebook @BossWriting and Instagram @legalwritingboss to read powerful, fun, interesting quotes and examples; sign up for free webinars; and post your legal event for our followers.
The Boss Blog will provide a space here for excellent legal writers to offer key insights, practical tips, opinions, and even poetry. If you are highly skilled and want to help lawyers write like a Boss, then submit your blog idea and/or content to: boss(at)legalwriting.eu If we accept your blog, you will get a Boss Badge next to your name on the contributors page.
---