Expert Language Services for Every Law Firm
Each participant receives a 60-page materials bank
based on our bestselling book by LexisNexis!
Legal Writing Coach Online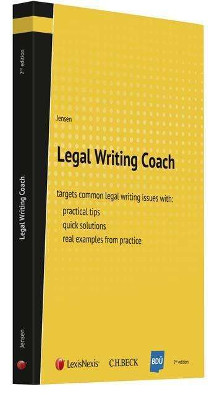 Some of our satisfied clients…
Legal Writing Basics: Three Key Skills
This foundational workshop addresses the three skills partners would most like to see improved in associates' legal writing in English. Participants begin by learning a technique for striking the right tone in legal correspondence. They then take part in a usage competition, with sentences from practice that test their ability to spot the most common legal vocabulary, grammar, and punctuation errors – followed by practical tips on how to avoid/correct them. Finally, participants learn how to cut their way to better style.
The Four Step Edit: Memos & Reports
Systematic editing brings objectivity and can make good writing great. It can also reduce frustration and time spent redrafting. Yet few lawyers have a system for editing. In this workshop, participants will learn a four-step approach for editing longer non-transactional documents (memos, reports, prospectuses, etc.), each step bringing greater refinement. Participants will learn how to transform their work by systematically editing for structure, two aspects of style, and usage (grammar, punctuation, legal vocabulary). Participants also receive a handy four-step editing checklist.
Poor communication is the no. 1 client complaint about lawyers. Emails are easily the most common type of lawyer-client communication. This interactive workshop begins with 10 client-friendly email strategies, including how to structure using "ICRA"; close with clear next steps; edit for clarity and concision; and strike an appropriate, positive tone. Participants then break into groups and apply the 10 strategies to emails from practice. The workshop concludes with email "do's and don'ts," including a handy checklist for each participant.
Legal Writing Coach Online
The World's Top Legal Writing Experts are Now Online to Help You Win.